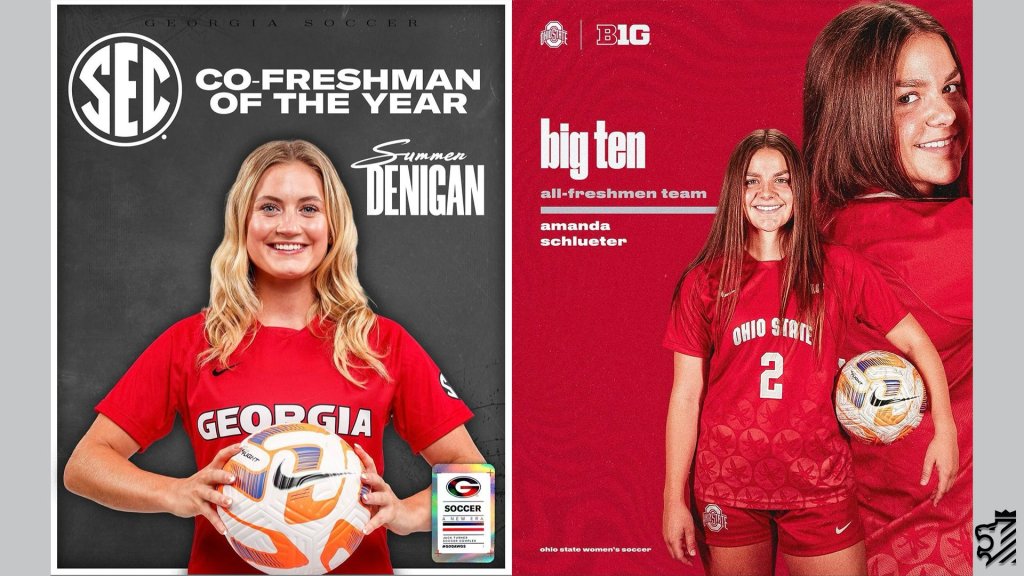 FOR IMMEDIATE RELEASE
Lexington, Kentucky – Kentucky Youth Soccer Association is delighted to announce the remarkable achievements of two of its alumni, Summer Denigan and Amanda Schlueter, who has been honored with prestigious conference awards this fall season. Both athletes, who previously played for KYSA member club King's Hammer, have showcased their talent and dedication at the collegiate level.
Summer Denigan (2003), former King's Hammer standout, marked her triumphant return after being sidelined due to an injury last fall, completing her freshman season at the University of Georgia. Denigan showcased her incredible talent by contributing to crucial goals in several pivotal matches, earning her the title of SEC Co-Freshman of the Year. She was also recognized with positions in the Second Team All-SEC and the SEC All-Freshman Team. Currently, Denigan and her Georgia teammates are competing in the Southeastern Conference Tournament and will take on Texas A&M Thursday, November 2nd at 8:30pm ET. The Georgia Bulldogs advance to the semi-final round after defeating the University of Kentucky.
Amanda Schlueter (2005), another product of King's Hammer, delivered an exceptional performance during her freshman season at the Ohio State University. Schlueter tallied an impressive total of five goals and seven assists, demonstrating her significant impact on the team. Her outstanding efforts were acknowledged as she was named to the Big Ten All-Freshman Team. The Buckeyes now await their fate in the upcoming NCAA Tournament, following their participation in the competitive Big Ten Conference Tournament.
The Kentucky Youth Soccer Association takes immense pride in the accomplishments of Summer and Amanda, both of whom began their soccer journey's with King's Hammer and Kentucky Youth Soccer. Their dedication to excellence in collegiate soccer serves as an inspiration to aspiring youth athletes and highlights the tremendous talent cultivated within the Kentucky Soccer Community. Congratulations to both of these outstanding young women for their well-deserved recognition. We are so proud of your hard work and success!
ABOUT KENTUCKY YOUTH SOCCER
The Kentucky Youth Soccer Association (KYSA) is the premier organization dedicated to promoting and developing soccer across the Commonwealth of Kentucky. With a mission to grow and promote soccer in Kentucky, KYSA provides a wide range of programs and initiatives to inspire excellence, sportsmanship, and character in youth athletes. From grassroots to elite levels, Kentucky Youth Soccer offers opportunities for players, coaches, referees, and administrators to thrive in a positive and inclusive environment. With over 40,000 youth players, 6,000 active coaches, and a network of more than 83 local member associations, Kentucky Youth Soccer is committed to nurturing the growth of soccer and fostering the personal development of youth athletes on and off the field. Learn more about KYSA's impactful programs, partnerships, and events at www.kysoccer.net.