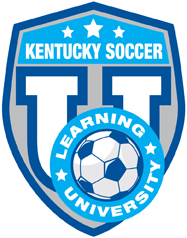 Soccer Learning University.
The Soccer Learning University stands as an enduring testament to the commitment of Kentucky Youth Soccer to nurturing the growth of soccer across our great state. Since its inception, this event has evolved into a vibrant hub, fostering a sense of community where coaches, administrators, and avid soccer enthusiasts come together to delve into the profound insights offered by top-level experts and seasoned professionals in the world of soccer. It's not just an event; it's an immersive experience, rich with diverse educational opportunities.
Expect to witness live field demonstrations that unravel the intricacies of the game, engage in enlightening classroom sessions that delve into the latest strategies and tactics, forge meaningful connections during our lively social functions, and have an opportunity to meet Kentucky Youth Soccer's Official Partners.
The Soccer Learning University is more than just a seminar; it's a day dedicated to the beautiful game, where camaraderie, shared knowledge, and the spirit of soccer unite us all. Mark your calendars and be part of an unforgettable experience that fuels your passion for soccer.
2024 Date & Location
Soccer Learning University
TBA • Lexington, KY
Soccer Learning University Information
2023 Soccer Learning University
Thank you to everyone who attended the 2023 Soccer Learning University – it was great to get together in person again. We are looking forward to 2024.

Below you will find the speaker presentations:
2023 SLU Presenters
Chioma Atanmo
Founder & Wellness Coach
Mindful Appetite
Click here for bio!
Vince Ganzberg
Director of Coaching Education
United Soccer Coaches
Click here for bio!

Matt Hochberg
Founder
Hochberg Sports Marketing
Click here for bio!

Caitlin Carducci
Vice President, Member Programs
US Soccer Federation
Click here for bio!


Jess Hogan
Owner and Founder
Xponent Sports Performance
Click here for bio!
Marc Cormier
Associate Professor and Director
University of Kentucky
Click here for bio!
Ashley Samson
Associate Professor, Kinesiology
Cal State Northridge
Click here for bio!
Brant Briggs, Ph.D., LPCC-S
Clarity Counseling Services
Click here for bio!
Dr. Peter McGahey
Founder
Be Your Best 2day!Click here for bio!
Santo Rivas
Coaching Education Technical Lead
US Soccer
Click here for bio
Molly Ann Halpin
Family Therapist, LPCA
Click here for bio!
Hotel
Kentucky Youth Soccer is working with a local hotel to set up a room block. Details will be provided as soon as possible.
Sponsorship/Vendor Opportunities
Soccer Learning University isn't just about knowledge sharing; it's a dynamic event that thrives on collaboration. We encourage organizations to be part of our vibrant vendor hall, providing an excellent platform to showcase your products and services to a soccer-savvy audience.
Additionally, for those looking to play a more significant role in SLU, we offer exciting sponsorship opportunities. It's a chance to align your brand with the passion and dedication that define our soccer community while gaining exposure to a diverse and engaged audience.
For more information on sponsorship and vendor opportunities, please contact Karrington True, our Director of Marketing and Events.